My favourite time of the year is here again, time to head off to the annual ASCILITE conference. This year we are back in Singapore for the first time since 2007. Planning for the conference this year took on a whole new focus when I was successful in being elected to the ASCILITE Executive. If the truth be told, this is something I had been wanting to do for a very long time but was only recently able to pluck up the courage to put my name forward (this obviously has lots to do with self-belief and imposter syndrome but that's a whole different blog I think).  As an extra bonus I finally convinced my long-time colleague, Michelle, to co-author a full paper and it was accepted (a first for her).
So off we head from the weird and wonderful weather in Adelaide (feeling a bit like Melbourne at the moment – four seasons in a week) to the heat and humidity, bright lights and limited taxi availability of Singapore. Travelling on "Black Friday" was OK whilst on the plane, but try and get from Changi airport to your city based accommodation at 7pm on this day and you are in for a long wait in the taxi.  At least the driver was entertaining and helpful in pointing out some of the sights for Michelle on her third only overseas flight ever.  Of course this could only be topped by trying to travel by taxi from the accommodation to the Keppel Club for dinner on Saturday night when a majority of roads were closed for the annual Singapore marathon (who starts a marathon at 6pm!!). I was introduced to a new app "Grab". No, it's not a way to find a new man for my life – it's the Singapore equivalent to Uber.  Unfortunately it appears that they don't like people who will only pay cash and you have to have your pick up point exact or they miss you and cancel the booking. The next day after my first Executive meeting it was hotel lunch then off to Raffles for the traditional Singapore Sling (I forgot how much I like them, and how expensive they are).
Sunday (oops), Monday arrives and it's time for the pre-conference workshops and the welcome function. Great to see lots of familiar faces (some returning after an absence) and eager to make some new connections, particularly with my newly developed research agenda – keenly seeking out co-conspirators. A busy afternoon and evening where we watched the rain tumble down (and wished we could send some of it to Eastern Australia), led to a quiet night – once we eventually got back to the hotel (Grab got us again).
Day 1 of the conference opened with VIPs everywhere, a thought provoking keynote and heaps of interesting paper sessions. The highlight was most definitely the Pecha Kucha sessions in the afternoon with the final speaker of the day being a third year undergradate medical student who worked us through a fantastic initiative in 20 slides, 20 seconds per slide, without even missing a beat.  She was perfectly in tune with the automatically advancing slides and finished as the last slide went to black. A bus back to the hotel after a very long day, topped off with dinner (UniSA crew minus Lisa) at the local Italian restaurant.  Although slightly expensive, the unexpected authenticity provided by the three native Italian chefs and the enthusiasm of the local wait-staff led to a great night and an invitation to come back and eat again before we go.
Day 2 started with another interesting keynote considering the advancement of team-based learning into the realm of technology enhanced learning.  Today was our day of presentation and, although there were not many participants (probably due to the number of competing sessions) everything went off without a hitch and some good questions. The surprise of the day came in the form of a question from a previous student of mine who is now undertaking a PhD and working at a university in Melbourne.  What a great coincidence – his PhD is on the topic of our paper!! After our paper concluded there was a major influx of audience members to watch our UniSA colleagues present on OnTask. Lisa and Anthea did a great job and fielded lots of questions during and after the session.  A quick session after lunch and it was off to prepare for the annual conference dinner – the highlight of the ASCILITE year.
The dinner theme this year was "Topical Island Party" and there was everything from a large inflatable pool toy (shaped like a unicorn), hawaiian shirts everywhere, Carmen Miranda and, of course, Skipper and Gilligan from Gilligan's island. The band were fantastic and the dancing started early.  A four course dinner was served and the wine flowed, as the dancing continued into the night.  We even attracted interest from passers by (random hotel visitors) who dropped in with their devices to film the band.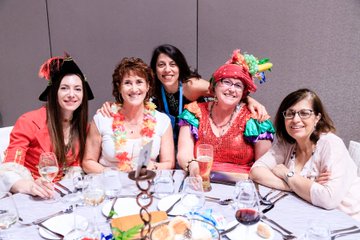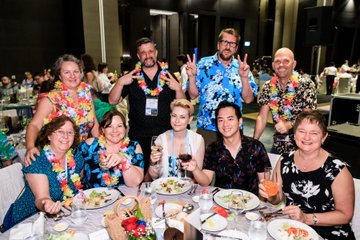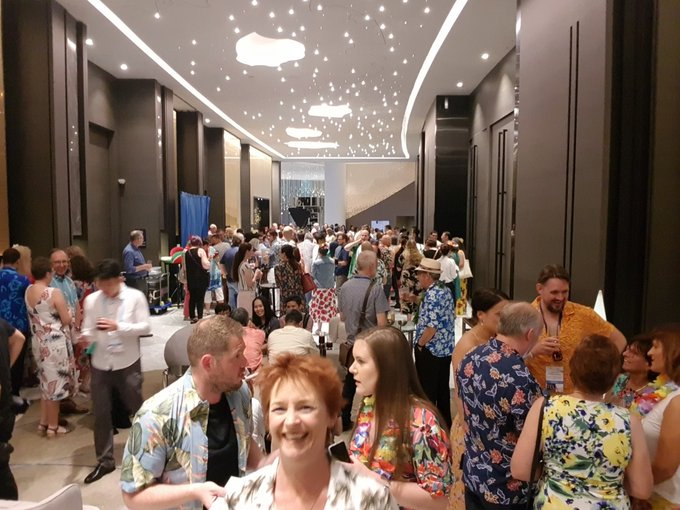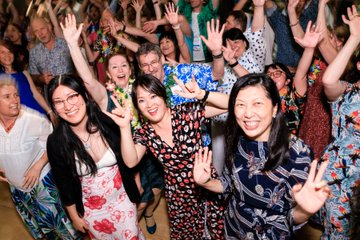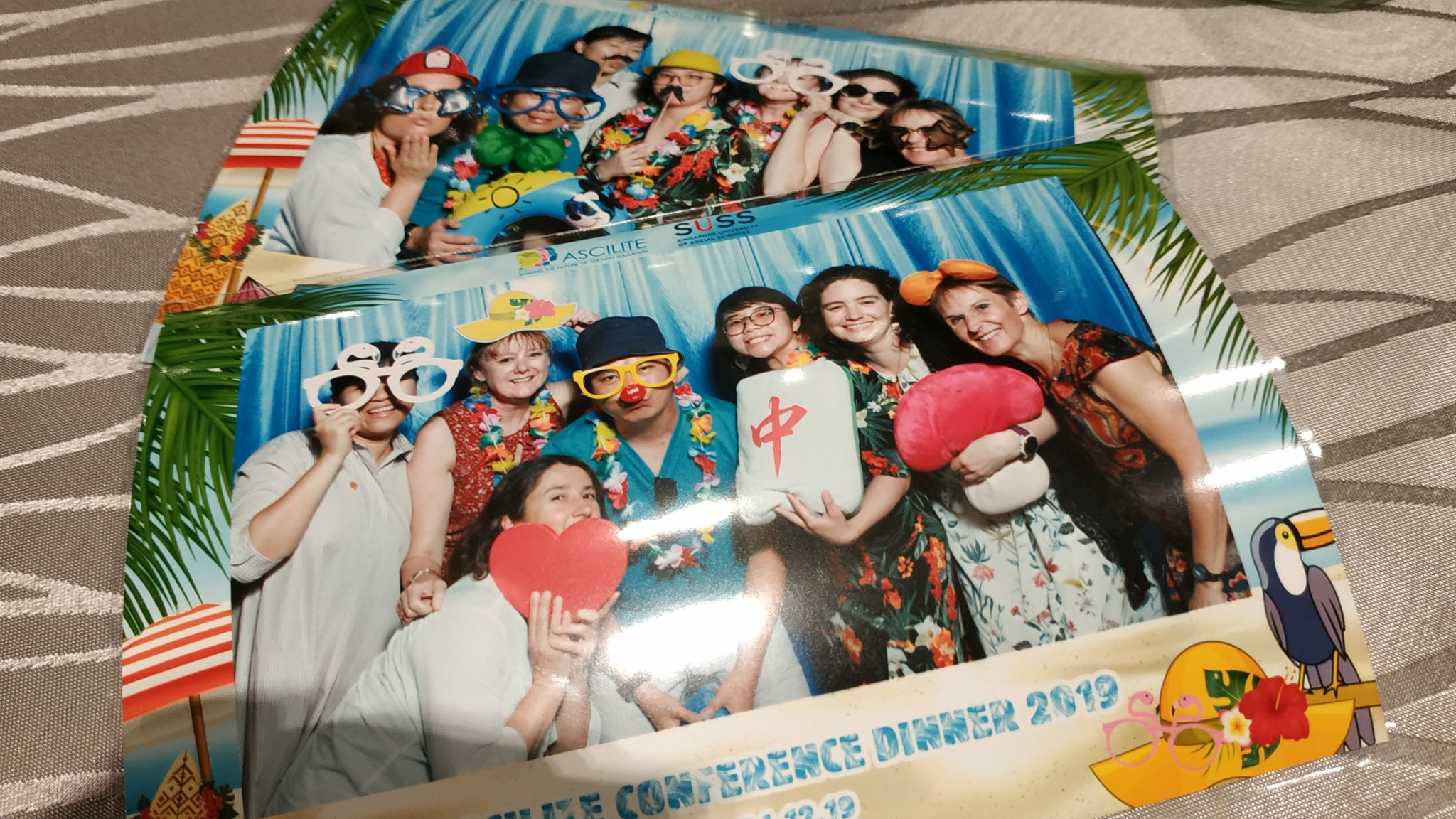 Day 3 started with a long line for coffee but, to everyone's credit, good attendance at the concurrent paper sessions. Congratulations to all who attended and to those presenters who worked hard to keep us engaged even though we were all starting to tire.  The last item on the agenda was a final keynote which outlined how the host university (Singapore University of Social Sciences) are using learning analytics to support their students through a university-wide collaborative approach.  A lot of fun in this keynote kept us all engaged.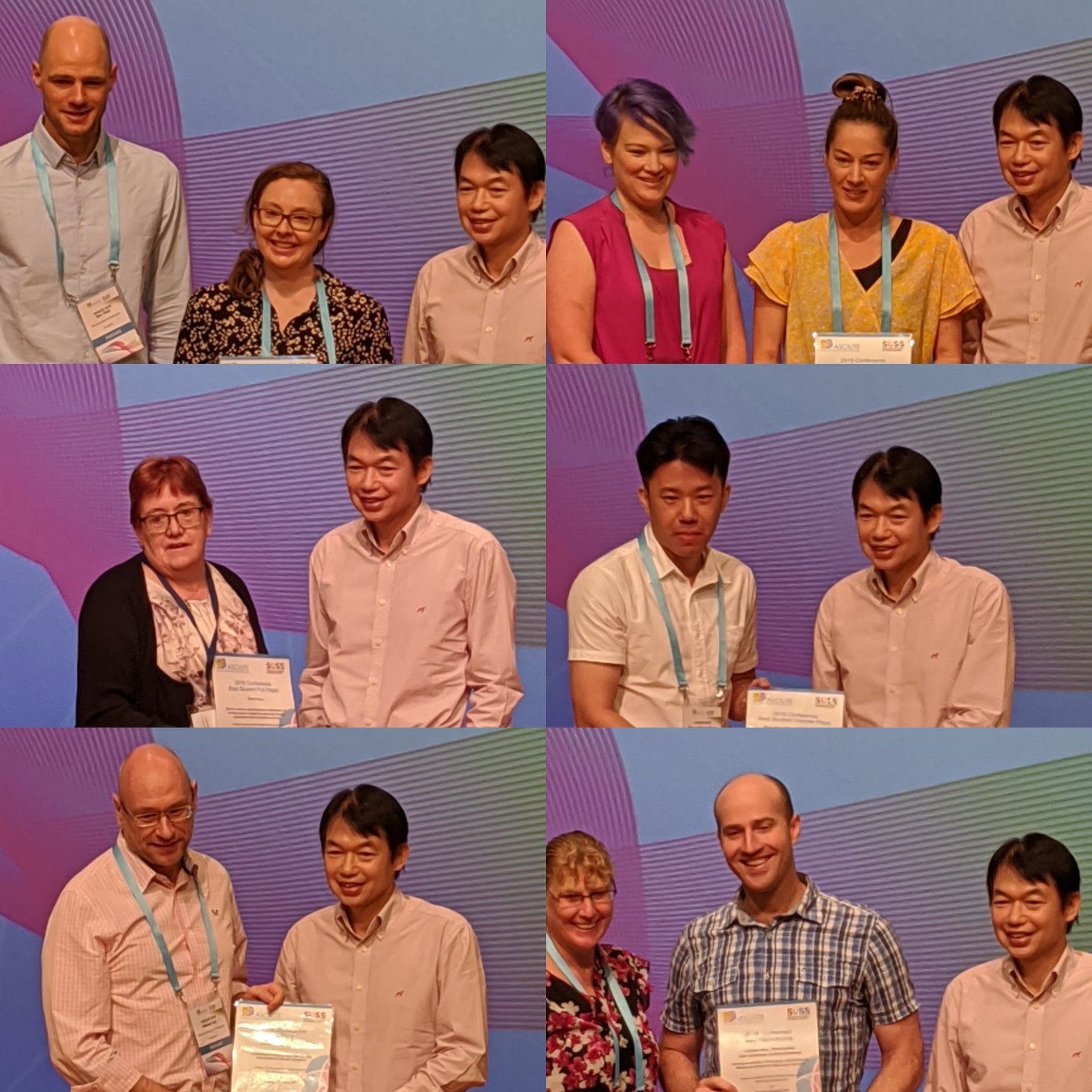 Best paper awards were given out and then it was handover to the 2020 conference team from University of New England. Dates – 30 November to 2 December in Armidale (hope they get some rain in the next 12 months) and a theme of "Vision 2020 – Back to the future" and a dinner theme, appropriately, "Back to the Future".  Start your projects now – get the paper written and submitted then pop on the dancing shoes ready for a great event.  See you in Armidale.